luminarias solares led lamparas solares led
Luminaria solar de LEDs para alumbrado público, amigable con el medio ambiente, y financieramente rentable por su alto desempeño lumínico. Estas luminarias de alta tecnología consume hasta 1/5 parte de la energía y duran hasta 10 veces más que las lámparas tradicionales.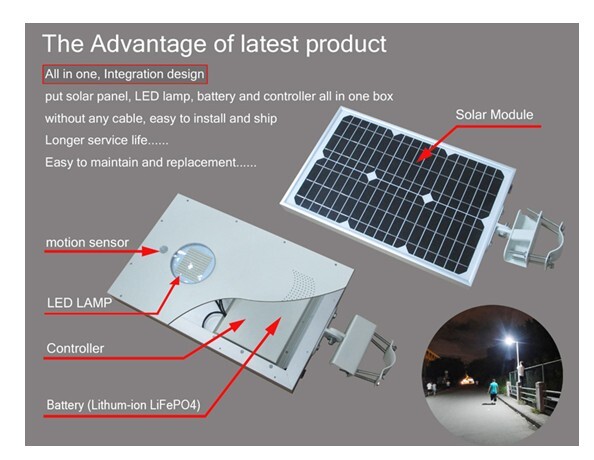 Lampara Luminaria Solar Integrada
1.Diseño Integral
2.Luminaria Exterior Solar
3.Facil Instalacion No necesita Cableado
4.Sensor Infrarojo
Lampara Led Luminaria solar para alumbrado Publico
Tipo de Luz :LED de alta Eficiencia con alto Brillo (Bridgelux USA)
Eficiencia (lm/w):90
CRI (Ra>): 75
Vida Horas de Trabajo:50,000
Materia del Cuerpo de la Lampara :Aluminio
Certificationes:CE,C-tick,LVD,RoHS,UL
Garantia (Anos):2
Factor de Potencia : arriba del 0.95
Eficiancia : mas del 0.9
Temperatura de Operacion:-40°C~50°C
Suministro de Energia: solar
Integrated solar street lamp
Application of 20w to 40w street light:
Parking Lot Lighting
Roadway Lighting
Street Lighting
Pathway Lighting
Ramp Lighting
Sidewalk Lighting
Private Road Lighting
Jogging and Bike Path Lighting
Perimeter Security Lighting
Farm & Ranch Lighting
Wildlife Area Lighting
Park Lighting
Campus Lighting
Boat Dock Lighting
Remote Area Lighting
Military Base Lighting
Advantage of 20w to 40w street light
No line voltage, trenching, or metering
No power outages
Battery backup for cloudy or rainy days
Distributed light and power - no single point of failure for enhanced security
Easy to install with quick connect plugs - less than 1 hour
No scheduled maintenance for up to five years
No cost of replacing concrete, asphalt or landscaping
No cost of transformers or meters to be added for electric service
Qualify for savings from various state and federal taxes and incentiveses
No monthly electric bills
Controlled charging to prolong battery service life
Long-life PV modules with more than 25 years of power generation capacity
Environmentally friendly - 100% powered by the sun, solar panels reduce fossil fuel consumption, eliminating pollution
Self-contained solution - Light on/off controlled by automatic daylight sensing or hour preset, no running or maintenance cost
Better light source - LED lights feature cool white light without flickering and higher brightness than sodium lights
Safe 12 volt/24 volt circuit, no risk of electric shock
Standard Features of 20w to 40w street light:
1. Integration design, easy to carry, put solar panel, LED lamp, battery and controller all in one, don't need any cable,;
2. Installation is very convenient, use iron pole, wood pole, bamboo pole, plastic pole, wall, etc will be no problem, it will can reduce a lot of cost;
3. Using high capacity and long life of lithium iron phosphate battery,service life 5 years, can resist high temperature and low temperature, can ensure the long service life of the whole product;
4. Easy to maintain,the battery and light are the direct inserted & pluck type, can complete the main maintain by yourself in the future when the battery or light source need to be replaced, don't need a professional personage to do maintenance.
5. Use alloy materials, waterproof, strong and durable.
6.with CE,ROHS and IP65 certificate.
Integrated Solar street light (20W)
Model: BYM-SL220
Solar panel
Max power
18V50W (High efficiency imported solar cell)
Life time
25 years
Battery
Type
lithium battery
Life time
5 years
LED Lamp (with sensor)
Max power
12V 20W
led chip brand
Bridgelux from USA with high brightness
lumen (LM)
2000-2200lm
Life time
50000hours
Viewing Angle
120°
Charge time
by sun
7 hours (with enough strong shine)
Discharge time
full power
more 10 hours
saving mode
more 24 hours
working Temperature
range( ℃ )
-30℃~+60℃
colour temperature
range(k)
6000k
mounting height
range (m)
5-6m
space between light
range (m)
18-20m
Lamps material of main
aluminium alloy
Certificate
CE / ROHS / IP65